---
Have you ever thought about reliving your memories?


Would you like to be able to have those wonderful moments around a lace that perfectly fits your fingers?
This cute and stunning ring is full of Halloween fun! It's Jack Skellington, also known as the "Pumpkin King" - a character and the main protagonist of the film: The Nightmare Before Handcrafted in 925 sterling silver with exquisitely details, this "Jack Skull" ring is studded with sparkling Jeulia Stone. Chic and adorable, this skull ring makes a great gift
- Surprise her with this ring any time of the year.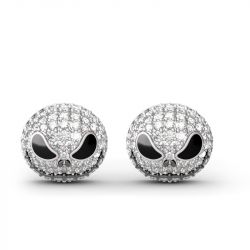 Skull is one of the most attractive and fashionable motifs. Jewelry with skulls can celebrate a person's own life or represent his/her rebirth or transformation. Besides, it represents freedom, individuality and the fact that you don't adhere with the rules set by society.
Our designs integrate the fashion and individuality of skull element with the grace of beauty of the finest metals. These skulls add a luxurious element to your look in the boldest ways and make you stand for your fearlessness. Whether you want to shock someone or want to flaunt your tough biker attitude or create a style statement of your own, is definitely the way to go!